Warning: Dragon Age spoilers all over the place.

Also, this is cross-posted from my Gamasutra blog.
Love Amidst the Horrors of the Fifth Blight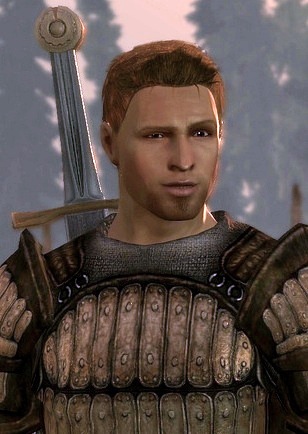 I can't recall if I started Dragon Age: Origins with the knowledge that romance with party members was possible. I do recall falling in love with Alistair from the very first. A snarker with a heart of gold, he was. Together we endured betrayal and then trekked through a dangerous land with Morrigan, the ill-tempered apostate daughter of a kooky old woman. As the last two Gray Wardens in Ferelden, we waded through dwarven politics and darkspawn blood in the deep roads, slaughtered werewolves for some beleaguered elves, and took care of the bastard who got our king and our fellow Grey Wardens killed in his bid for the throne, all so that we could gather the armies we needed to fight a threat to all of Thedas and save the known world.
Our love affair wasn't all sunshine and roses, though. I bedded Zevran, the charming and sexually free elf assassin who had joined us after he failed to complete his assignment to kill me, in a moment of weakness*. Alistair confronted me about that while we were in a dungeon, both of us spattered with the blood and gore of our enemies. "This probably isn't the best time for this," he acknowledged before telling me how much I'd hurt his feelings. I promised it wouldn't happen again and we continued our slaughter of the not-so-innocent.
*The chat interface was underdeveloped in Origins, a far cry from the illustrated chat wheel we have now, and I accidentally had sex with him. I decided not to save scum.
(more…)